Unlimited license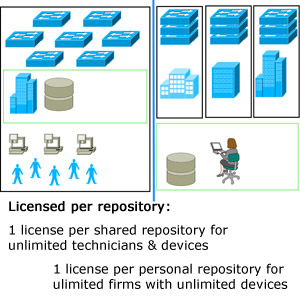 Unlimited count of devices
You can maintain unlimited count of devices, devided to ulimited count of groups/domains (customers, device clases, locations or environment a so one), still one fee.
Unlimited capacity
You can store unlimited count of backups, unlimited versions, unlimited size each of them. All store capacity depends only on the ability of Your database server, SwitchBackup still one licence, no other fee.

Unlimited client instances
You can manage your configuration backups from unlimited count of client computers, including restoring, bulk configuration, analyze tasks and all other features. Many technicians can install and use the software free of charge. The only licence fee is bound only on used database repository.
Inventory management
Detect all hardware components by serial numbers, software versions, and store all with current configurations as well as all change history.
You can add your inventory name on top of serial number and use your usual commentary.
Premium Services
Upgrade and on-line cloud snippets library
On-line "cloud" based library of code snippets, based on configuration examples by SwitchBackup Team as well as by community of users is now available free throughout subscription period.
What more, one Year subscription is now included free in every licence fee, including all online services.
Switch configuration backup
Switch configuration restore

SwitchBackup software provides simply Windows graphical user interface to make easy backup of single or multiple 3Com, Cisco, Enterasys or Huawei switches or routers by one mouse button click. No extra costs, no extra knowledge engineers can always back up the network environment and restore it again in case of any failure. When using command line parameters to automate and schedule backups commonly used techniques, such as using the Windows Task Scheduler. Each shot can automatically backup safely stored in SQL Server repository and can be used at any time to recover, identify differences in the different versions, for audit purposes or as a template for further configuration.

By using SwitchBackup to backup your network environment, you get a variety of additional benefits:
One click backup including port status snapshot - simply click before and after any changes made
Store any number of configurations of each one switch, clearly, sorted, timestamped, commented
Many environments, unlimited device count, unlimited configuration versions
Easy, quick and accurate recovery procedure of any damaged network device
Audit and verify configurations of all your switches or routers
Test configuration changes in test environment, then clone to production one
Simply one click for backup, one click for restore.
Backup all switches and routers configurations in a minute, and recovery any crash, administrator failures or any other case in the shortest possible time.
Bulk Switch Config,
Analyze & Audit of Switch Configuration

Plan - Test - Apply and Verify all configurations and all configuration changes made in your switches and routers. With SwitchBackup software You can easy collect and analyze all running configurations of Your 3Com, Cisco, Enterasys or Huawei network devices. You can off-line scavenge all stored configurations to audit user accounts, unencrypted passwords, vlans, ntp settings, snmp community and much other.
Search for misconfigurations, design the solution, verify in test environment and then apply en masse in the production environment. Do not waste time, do not risk typing errors! Simply use default configuration tasks or prepare your owns to be used by colleagues or junior co-workers. You can also easy clone good used configurations to new installed switches. With a few click compare running configurations of the different devices or backups made at different time.
Think about some benefits of Bulk Configuration and Configurations audits:
Off-line browsing, comparing and analyzing of all stored configuration files
Simple audits of common failures and misconfigurations
Audit of administrators, access acounts, unencrypted passwords
Bulk corrections of errors found, bulk changes in user accounts
Code snippets repository, containing descriptions, all repeatable and in bulk usable
Clone editor to make new configurations on templates
Comparison of different configurations with the ability to quickly identify differences
Tracking network devices with mac address finder, error dissabled interfaces etc.
Use best practises and be ready to change - everything, everywhere, quick and simple!
Asset management, inventory list
Change management

List inventory of all your network, switches and routers, including SFP modules, power source modules, line cards ans so one. List all theirs hostname, IP address, descriptions, hardware type, serial numbers, software images and versions. With SwitchBackup software You can easy and quick audit hardware changes, vulnerable IOS versions, or software images supported functions. With configuration compare function you can fast and smart identify added, erased and changed configuration lines.
Identify, and registry all changes made in your network infrastructure.
Main benefits of CONFIGURATIONS MANAGEMENT with SwitchBackup software:
Immediate overview of all switches in your network, include user description
Unlimited history of hardware and configuration changes
Summary of hardware and software versions of Your devices
Readily available for planning changes, audit vulnerablity, investment strategy
Configurable groups for several networks, locality, organizations aso.
Including port status, port speed and connected device
Always complete and secure information about all used network switches and routers!